PENDOWN SOCIETY
Your area of interest to choose from:-


















































































Copyright © 2012 Pendown Society
Movies Review-all movies 2012
Review
EK MAIN AUR EKK TU
Release Date : Fri, Feb 10, 2012
'Ek Main Aur Ekk Tu' is an unusual story of two people who meet by chance and get married under the influence of alcohol. The story is quite new for the Indian audience. The drama will be enjoyed mainly by the multiplex and city audience.
The screenplay is fresh and unpredictable. The dialogues are entertaining. Imran Khan does an excellent job. Kareena Kapoor is extraordinary. The two have great on screen chemistry. Shakun Batra's direction is mature. All the songs are well-written and well-composed. The other technical aspects are of a superior quality.
On the whole, Ek Main Aur Ekk Tu is an entertaining and enjoyable fare for the city audience. Its business in multiplexes will be good. The film will prove to be a comfortable earner.













Film Critic: Gopal Krishna

Star Cast – Hrithik Roshan, Sanjay Dutt,Priyanka Chopra, Rishi Kapoor

Director – Karan Malhotra

Producer – Karan Johar

Music Director – Ajay Gogavale, Atul Gogavale

Lyrics – Amitabh Bhattacharya

Genre – Action Drama

Rating:




Remakes of the brand movies, though the trend has been dolled up since the outset, has now turned a formulaic fashion in the Hindi film industry. And it is often witnessed that the majority of the remakes of the classics and the blockbusters have turned successful at the box office. Nonetheless there are notions which go against the remakes. The question is … if the remakes do well and get popular among the audiences and most importantly if they try to be different or slightly different injecting the dose of contemporary elements, then there is no harm at all to churn out them for the entertainment of the movie lovers who always seek something catchy and worthwhile to watch.

Often the stars, who are roped into the remakes, are found saying that there is no comparison with the original character. Well, to some extent or as far as their acting is concerned, their claim seems to be okay. But the fact remains that you cannot change the audiences' minds who have already watched the original brand. So when they hit the theater's space, they carry along the flashes of those characters along. Result: the comparisons happen! Thus it becomes the stars' responsibility to satisfy the viewers and help them forget the comparisons with their extra dose of well-delivered performance.

Karam Johar's Agneepath is the remake of the 90s hit with the same titled in which Amitabh Bachchan had played the main character of Vijay Dinanath Chauhan. The film brought National Award for Mr. Bachchan in return to his classy performance in the movie. The film was produced by Karan's father Yash Johar. Twenty two years later, the son took the command to remake father's hit with the debutante director Karan Malhotra, who makes the current Agneepath as per the taste of the today's audience to dish out to the viewers to get entertained with. Malhotra puts new additions to the script to make it slightly different from the original like he introduced the new negative character of Rauf Lala (Rishi Kapoor). But the main plot is same – the revenge saga.

Debutante Karan's execution further makes the product contemporary for the audiences who view it as if they are watching a new flick. That's the beauty and the skill of the director. Hrithik Roshan slips into the strapping character of Vijay Dinanath Chauhan played by the legendary Amitabh Bachchan twenty two years back. The all time favorite dialogue 'Naam Vijay Chauhan…Baap Ka Naam Dinanath Chauhan' is the one that had made the flick to super heights in 90s and the same dialogue is going to do something super lucrative for Karan Johar's product.

Karan Malhotra's Agneepath has all – action, vengeance, drama, emotions and entertainment. You are rest assured to enjoy the ride with one package that is what the first time director confers his viewers with. Karan shows his class on the celluloid. Since the director knew that the viewers would make the comparisons, he gave the fresh touch to each character in style and other things. He proves that he is a great storyteller. From his job of direction, it cannot be figured out that he is a debutante in the field.

Agneepath talks about a tiny village called Mandwa where the principled father Dinnaanth (Chetan Pandit) teaches his son Vijay Dinnanath Chauhan (Hrithik Roshan) all about the fire (Agneepath). The happy life of the Dinnanath family gets ruined and Vijay is smashed when the drug dealer of the area Kancha (Sanjay Dutt) murders Vijay's father. His mother (Zarina Wahab) is pregnant. Vijay and his mother leave the place and arrives in Mumbai where he bumps into the gang lord Rauf Lala (Rishi Kapoor). Rauf becomes the Godfather of the little Vijay Chauhan. Here starts his journey of revenge, which he has in his heart for Kancha, and in the process he gets the supporting hand of his love interest Kali (Priyanka Chopra). Vijay moors the belts to head to Mandwa fifteen years later to seek vengeance.

Agneepath's power lies in the mastery skill of the director and the script writers they do not let the film loss its flavor. There is hardly any moment where the movie falls flat or runs short of content. The sequences between Vijay and Kancha are what simply capture the whole attention of the viewers. The drama in the movie, where many first time directors even the established directors shake, is well handled by Karan Malhotra.

Karan Malhotra has done his job with finesse and class. He surely has a good scope in the days to come and many big budgeted films will wait him for sure. Even Karan Johar will certainly offer him many projects to do. The action sequences by Abbas Ali Mogul need and deserve special applauds. The viewers who love action movies will find this product superb to satisfy their thirst. The audiences simply enjoy every sequence and every scene was entertained with big noise. The action sequence in the finale loots the viewers' hearts.

Ajay-Atul's music is splendid though there is hardly any song which turned chartbuster except Chikni Chameli but they all are listenable and mellifluous. Chikini Chameli, which is picturised on Katrina Kaif, has been doing supremely on all channels. The item song has surely added many sparkles to film's worth. Katrina looks @#!*% sexy and gorgeous in the song. It was created for the movie's hype and it did wonders. The background score has also been done by the duo Ajay-Atul and it is superb. Screenplay by Ila Bedi Datta and Karan Malhotra is a masterpiece carries no flaws at all. Dialogues by Piyush Mishra are splendid. Cinematography done by Kiran Deohans and Ravi K. Chandran is a class in itself.

Hrithik Roshan has done wonderful job with the iconic character of Vijay Dinnanath Chauhan with such brilliance that the viewer claps with praise. He does full justice to Amitabh's character. Sanjay Dutt as Kancha is magnificent. His negative role surpasses his previous negative roles he did in Khal Nayak and Vaastav. He allures the hearts and souls. Hrithik Roshan and Sanjay Dutt will surely be nominated for Best Actor and Best Villain's categories in the awards functions to come. And Karan Johar's movie too will find its space in the nomination of Best Movie. Rishi Kapoor impresses with his role. He has done the role, which he has never attempted in his career. Priyanka Chopra is great to watch. Zarina Wahab is good. Rest of the cast too is brilliant.

Final Verdict by the Critic:

Agneepath is sure to be a big hit. The film will witness bigger collections at the box office with magnificent direction, powerful script and brilliant performances. A MUST WATCH!

………………………………………………………………………………………………………………………………………………………………………………………
Review
CHAALIS CHAURAASI
Release Date : Fri, Jan 13, 2012
CHAALIS CHAURAASI
has an ordinary screenplay that relies on the customary masala to make things work. The story revolves around four people -- Sir [Naseeruddin Shah], Albert [Kay Kay Menon], Bobby [Atul Kulkarni] and Shakti [Ravi Kishan] -- who see an opportunity to a great future when they are given a mission to pull off. Things take a twist when another cop [Rajesh Sharma] stops their van en-route and takes them as his backup to catch a dangerous gangster [Zakir Hussain]. The story unfolds through the night where the fine line between law and crime is repeatedly crossed, leading to unexpected situations.
Review
GHOST
Release Date : Fri, Jan 13, 2012
City Hospital witnesses a chain of blood curdling spine chilling murders. A beautiful young recruit Dr. Suhani (Sayali Bhagat) is faced with uncanny happenings at the hospital. The murderer uses a unique methodology, leaving behind no trails, defying all human comprehension. A leading investigating agency entrusted with the case, assign it to their most competent officer Vijay Singh (Shiney Ahuja). Among the first he questions is Dr.Suhani. There is immediate chemistry between the two. The culprit moves again and we witness more horrifying brutal killings. Success eludes Vijay but he gets passionately involved in the case treating it as his personal war against the slaughterer. Finally, God proposes and evil disposes.

An ode to horror lovers here is a truly original story that is brutal and bloody. It has portrayed the most frightening encounters between good and evil, that audiences will experience for the first time in Indian Cinema, the most ominous and brutal butchering. There are full scenes that one would experience and see clearly in One's dreams and perfect examples are the murder sequences in the film which are a real terror. Gore and blood are the highlights of the film. The story is simple but engaging.
Review
SADDA ADDA
Release Date : Fri, Jan 13, 2012
SADDA ADDA is about how six bachelors, with completely different backgrounds and personalities, live together. The film actually, takes a long time to come to the point. Beg ensures that the first hour has its share of some wonderful, laden-with-wit moments that keep you engrossed. The turning point in the story comes at the interval point, expectedly. With multiple storylines Beg handles the multiple stories maturely.
Sadda Adda does manage to keep you engaged in its second hour due to the twists and turns in the story. In fact, the penultimate 20 odd minutes are the mainstay of the film, with the emotional moments making you moist-eyed. The end, luckily, gives you a positive vibe. While the cinematography is okay, the music gels well with the mood of the film and the dialogues are funny and witty.
Review
Players Review
Release Date : fri,6th Jan,2012
Viacom 18 Motion Pictures and Burmawala Brothers' Players is the official remake of the Hollywood film, The Italian Job. Players is about a gold heist adventure. A thriller like Players could have worked only if it were made as a fast-paced and stylish film. While this film is stylish, it is anything but fast-moving. The drama is so half-baked that tens of questions crop up in the viewer's mind for which the story and screenplay writers offer half-baked answers. All in all, while the story is interesting, the screenplay botches the attempt so badly that the film turns out to be a boring fare.
The train robbery sequence and the track of Johny Lever in the post-interval portion is interesting. The music is a minus point in the film. Overall the performances fail to make an impression. The direction is below average. The production values are grand. On the whole,
Players
will play a losing game at the box-office. Given the huge investment (of Rs. 65-70 crore) made in the film, it will end up entailing heavy losses to the producers as well as distributors.


Review
DON 2 Review
Release Date : Fri,23 december,2011
Reliance Entertainment and Excel Entertainment's 'Don 2', is the sequel to the 2006 release Don. The story and screenplay keep the audience's interest alive. The first half, however, moves at a leisurely pace and takes a while to come to the point. It is after interval that the pace picks up. The revelation of the suspense (like in the first part,Don) is the highlight.
Shah Rukh Khan shines in the role of Don and uses all the charisma at his command to make his character supremely endearing. Priyanka Chopra gets limited scope and is suitably restrained Lara Dutta is alright but her scope is restricted. Boman Irani is menacing and manipulative, as is the demand of his character. The direction is stylized and suited to the story. The music is disappointing. The other technical aspects are good
On the whole, Don 2 may not give the discerning audience a great high but it will be loved by those who like style, intrigue, suspense and attitude. It will score at the box-office and yield good profits to Reliance Entertainment. Business in big cities and multiplexes will be far better than in smaller towns and single-screen cinemas. The film will work wonders in the overseas circuit.
Review
PAPPU CAN'T DANCE SAALA
Release Date : Fri, Dec 16, 2011
'Pappu Can't Dance Saala' is an unlikely love story of a small-town guy (Vinay Pathak) and a chorus dancer of Bollywood (Neha Dhupia). This slice-of-life story has several comic situations, but becomes predictable after some time. The screenplay fumbles in the second half. The dialogues and the very natural performances of the actors save the film from becoming boring despite the repetitiveness.
Vinay Pathak does an excellent job as the small-town guy and Neha Dhupia is simply delivers an effortless performance. The direction is mature. On the whole, 'Pappu Can't Dance Saala' will win more acclaim than Box-Office rewards because it cannot hope to recover its cost from the few multiplexes it will work in.
Review
JO HUM CHAHEIN
Release Date : Fri, Dec 16, 2011
'Jo Hum Chahein' is a love story starring newcomers Sunny Gill and Simran Mundi. The story lacks novelty and the screenplay fails to involve the audience. Although the film introduces two, care has not been taken to make their characters endearing. The dialogues are commonplace.
Sunny Gill and Simran Kaur Mundi make an ordinary debut. The direction and other technical aspects are average. On the whole, 'Jo Hum Chahein' is a non-starter and is unlikely to pick up after the weak start.
Review
Release Date : Fri, Dec 09, 2011
Yash Raj Film's Ladies Vs Ricky Bahl (UA) is the story of a charming con man, Ricky Bahl, who charms young girls, wins their confidence and then disappears with their money.
The screenplay is entertaining in some portions but dragging in others. The interactions between Vikram Thapar and Ishika Patel are not as thrilling and exciting as they ought to have been. . The love track has been intelligently woven in the drama. The songs and song picturization is very good. Dialogues should have been more punch packed.
On the whole, LADIES VS RICKY BAHL may not charm you enough but it doesn't even con you. A fair entertainer.
The Dirty Picture Movie Review
Director :


Music :


Lyrics :


Starring :
Milan Luthria


Vishal-Shekhar
Rajat Arora
Naseeruddin Shah, Emraan Hashmi, Vidya Balan, Tusshar Kapoor




---

The Dirty Picture Review


December 2, 2011 11:35:21 AM IST
By Pendown Society team



This film has a tightly bound script with just one loose sheaf. And frankly speaking, it's unfair on director Milan Luthria because

Vidya Balan

's electrifying performance, leaves the rest gasping for breath. You just see her grasp the character and make it larger than life. This is perhaps her best performance till date. Even

Naseeruddin Shah

gracefully blends into the background as the 'Hero' takes Centre stage.

Vidya Balan disappears; it's Silk that emerges on screen. And though the PR machinery may have given one the impression of this film being one of sex and sleaze, it is not. In fact, this subject has been packaged in a sublime manner giving it the respect it deserves and making us wonder what really lies behind the glamour and gloss. It's not right to pass judgment because you don't know what the other person is going through, or the circumstances that has brought her to the place she is. Everyone has a choice, right. But we all make mistakes. And this film is not about glorifying a mistake. Rather, it addresses the plight of an upcoming actress.
Desi
Boyz
Release Date :
Fri, Nov 25, 2011
Eros International's Desi Boyz is the story of two friends who are hit hard by recession. To tide over the difficult times they become male escorts, fulfilling costume fantasies of ladies.
The story is fresh and the screenplay moves at a fast pace. The comedy evokes laughter at many places. The performances are good. Rohit Dhawan makes a confident debut as director. The music and other technical aspects are very good.
On the whole, Desi Boyz is an enjoyable entertainer which will keep its producers, distributors and exhibitors happy. Its business in the bigger cities will be better.

Dam 999 Review
Release Date :
Fri, Nov 25, 2011
Biztv Network's Dam 999 is the story of a group of people who are faced with their own personal tragedies till disaster strikes in the form of a dam breaking apart, taking many lives.
The story tries to talk about too many things at once. The audience cannot relate to any of the characters and the drama comes across as farcical. The performances are below average. The direction is poor. Other technical aspects are average.
On the whole, Dam 999 will prove to be a poor fare at the box office.
Shakal Pe Mat
Ja
Release Date :
Sat, Nov 19, 2011
Linc Entertainment and Ipix Movies' Shakal Pe Mat Ja (A) is the story of four young boys who are mistaken to be terrorists by the police on duty at the airport. Ankit Sharma (Shubh), Rohan Malhotra (Chitrak Bandhopadhyay), Bulai (Harsh Parekh) and Dhruv Sharma (master Pratik Katare) are four friends who have come to take photographs of aircrafts at the airport. They get picked up by the police and one misunderstanding leads to another till they are suspected to be terrorists. Soon, the Anti-Terrorist Squad officer, Chavan (Saurabh Shukla), and police officer Om Prakash (Raghubir Yadav) are convinced, the four are indeed terrorists. What happens thereafter? Are they able to prove their innocence? If so, how?
Shubh acts naturally although he doesn't look like a hero. Chitrak Bandhopadhyay is quite nice but his accented English will hardly be understood. His farting scenes are overdone and are irritating more than entertaining. Harsh Parekh is hardly average. Master Pratik Katare irritates. Saurabh Shukla is not sure whether he should be doing comedy in serious scenes or should be serious in them. He hardly creates an impact. Raghubir Yadav is at least earnest. Aamna Sharif is wasted. Mushtaq Khan overacts. Aditya Lakhia is alright. It is sad to see Zakir Hussain being so hopelessly wasted. Joy Sengupta tries to be funny but fails.
Shubh's direction is as dull and disjointed as his script. Music (Salim-Sulaiman) is average. The lyrics are too commonplace to be true. Amar Mohile's background score is rather dull. Camerawork is average. Editing is terribly weak. Production and technical values are pathetic.
On the whole, Shakal Pe Mat Ja is a poor show from start to finish and will meet with a disastrous fate.
Review
Rockstar
Release Date : Fri, Nov 11, 2011
Shree Ashtavinayak Cine Vision Ltd. and Eros International's Rockstar is the story of a simple guy who dreams of becoming a famous musician.
Imtiaz Ali and Muazzam Beg's story about a young man's rise to superstardom is quite different from the usual commercial fare because it deals with the love story of a married woman and her college friend, both of who have no qualms or regrets about the extra-marital affair. However, the screenplay, penned by Imtiaz Ali, is of the kind which would appeal to the classes mainly. The writer has not even attempted to give a reason for the extra-marital affair, which would be difficult for the orthodox and non-elitist audience to accept.
The narrative style is also a bit confusing for the audience as overlapping scenes have been used to further the drama.
On the plus side, the making is fresh and the canvas, big and wonderful. Dialogues, penned by Imtiaz Ali, are very natural. The film is extremely colourful and youthful and for that section of the youth, which won't question the morals of Janardhan and Heer, the film becomes a veritably enjoyable fare.
Again, a minus point of the drama is that comic and light moments are few and far between. The second half, especially, becomes dark and even depressing. Emotions don't draw tears.
Ranbir Kapoor does an extraordinary job. His acting is excellent and it wouldn't be incorrect to say that he has lived the role of Janardhan/Jordan. He has played the simpleton, the passionate lover, and the rockstar with aplomb. His is indeed an award-winning performance and one which takes him to the next level. Nargis Fakhri makes a very promising debut. She looks pretty and does an extremely confident job. She would qualify for awards for the best debut. Kumud Mishra is lovely. Piyush Mishra is first-rate. Aditi Rao Hydari is very natural as the reporter. Shernaz Patel is dignified. Shammi Kapoor lends star value and delivers a mature performance in a short role.
Imtiaz Ali's direction is first-rate. He has made the film like a painting on celluloid. But his narrative style is of a kind which will be loved by the youth, liked by the elite and not appreciated too much by the audience of the single-screen cinemas and small centres.
A.R. Rahman's music comprises some hit numbers and some which are not too easy on the lips. 'Sadda haq', 'Hawa hawa', 'Saari raat katiya karun' and 'Kun faya' are very appealing songs. Irshad Kamil's lyrics are rich and wonderful. Song picturisations (Ashley Lobo and Bosco Caesar) are refreshing. Anil Mehta's cinematography is extraordinary. Editing, by Aarti Bajaj, is very different in style from what one is used to seeing. Production values are grand.
On the whole, Rockstar will be loved by one section of the audience – mainly the youth in the multiplexes. But there will also be a section – mainly the single-screen audience, masses and small-centre audience – which will find the drama dark and depressing. Given the film's high cost on the one hand (around Rs. 60-62 crore) and its lovely start on the other, crossing the average mark shouldn't be a problem.
Review
LOOT Movie
Release Date :
Fri, Nov 04, 2011
Review By

endown Society
Popcorn Motion Pictures and Viacom 18 Motion Pictures' Loot (UA) is the story of anj attempt to loot somebody, which goes wrong. Shabbir's story is so juvenile that it's a wonder, a film has been based on it. The screenplay, also penned by Shabbir, is so slipshod and irritating that the audience is barely able to get involved in the drama.
Govinda struggles to rise above the script but is let down by inane dialogues and a directionless screenplay. He is good, though. Sunil Shetty does a fair job. Jaaved Jaffery tries his best to evoke laughter but succeeds only at times. Mahakshay Chakraborty is okay. Mika Singh does an ordinary job. Kim Sharma is natural.
Rajneesh Thakur's direction is dull and routine. He has been able to make the film neither an entertaining drama nor an exciting fare. Music (Shravan Sinha, Mika Singh and Shamir Tandon) is average. Lyrics (Shravan Sinha, Mika Singh and Shabbir Ahmed) are routine. Choreography, by Remo D'souza and Nadeem Khan, is pedestrian. T. Surendra Reddy's camerawork is passable. Action (Allan Amin) is functional. Editing (Ashok Honda) should've been sharper.
On the whole, Loot is a poor fare and will fare poorly at the box-office.
Review
MILEY NAA MILEY HUM
Release Date :
Fri, Nov 04, 2011
Review By

endown Society

Maverick Productions' Miley Naa Miley Hum is the story of a young boy whose parents are separated and who wants them to come together again.
Tanveer Khan's story is routine and lacks any novelty as films about children from broken homes have been made in the past too. Even the screenplay, penned by Tanveer Khan, Gurjeet Grewal and Girish Dhamija, relies on clichéd situations because of which the impact is missing. Chirag's emotional turmoil is simply not felt by the audience.
Chirag Paswan makes a fair debut as the lead man. He looks okay and his perfromance is slightly above average. Kangna Ranaut is good. Her clumsy and unsophisticated character is enjoyable. Kabir Bedi acts ably. Poonam Dhillon impresses in a fairly lengthy role. Sagarika Ghatge gets very limited scope. She is okay. Neeru Bajwa also doesn't have much to do but she is earnest in whatever she does.
Tanveer Khan's direction is better than his commonplace script. Music (Sajid-Wajid) is appealing but the songs are not too popular. Javed Akhtar's lyrics are easy on the lips. Baba Azmi's cinematography is of a good standard. Raam's editing is sharp.
On the whole, Miley Naa Miley Hum lacks the merits to work at the box-office. It will flop at the ticket windows.
Ra.One: Movie Review
Ra.One
By Pendown Society

Starring: Shah Rukh Khan, Kareena Kapoor, Arjun Rampal, Armaan Verma, Shahana Goswami

Director: Anubhav Sinha

Rating: ***1/2

Here's a movie the Hindi film industry can be proud of. "Ra.One" can be touted as the first Hindi film that blends the elegance of Hollywood with Indian sensibilities.

From the very onset, this classy sci-fi film sets the viewers' adrenalin soaring. It also educates, entertains and eulogises our culture.

And, very predictably, from the very beginning you know that the crux of the film is about how good triumphs over evil.

"Ra.One" dwells into the virtual world of today's youngsters who are hooked on to technology and video games.

Prateik (Armaan Verma) is one of them. For him the villain is the hero simply because he does not play by the rules. It's winning, by hook or by crook, that matters to him.

Shekhar Subramanium (Shah Rukh Khan), the clumsy, nerdy game developer father of Prateik, lovingly tries convincing his son with, "Allow me to quote.... " and quotes Mahatma Gandhi and such like.


The youngster is unimpressed, thereby revealing the generation and cultural gap between the two of them.

Disheartened by the strain in the father-son relationship, Shekhar develops the invincible Random Access One (Ra.One), who can take any form, to please his son.

Still not fully convinced with his own creation, as a standby he also develops Good One (G- One), who could exterminate Ra.One if need be.

Excited with his father's creation, Prateik plays Ra.One with a screen name, Lucifer.

He manages to cross level two of the video game, thereby antagonising "Ra.One". Unknown to Shekhar and his team, Ra.One steps out of the game into their real world to eliminate Lucifer, thereby threatening Prateik's life.

This concept of the characters sliding from the virtual world into the real world seems to have been inspired from the Hollywood film, "The Purple Rose of Cairo".

"Ra.One" is an outright Shah Rukh Khan film.

The way Shah Rukh gracefully slips into the roles of Shekhar, Ra.One and G-One, leaving no room for confusion, is remarkable.

He is the superhero of the film. That's because the script was skillfully and convincingly put together by Anubhav Sinha, Kanika Dhillon, Mushtaq Sheikh and David Benullo. The dialogues by Kanika and Niranjan Iyengar are good in parts.

The little gimmicks by Sanjay Dutt, Priyanka Chopra and Rajnikant add to the lighter moments of the film but take the story nowhere.


Shahana Goswami as the employee at the electronic company and Arjun Rampal as Ra.One look fine for the roles they play but have very little to deliver. Armaan as Pratiek is impressive.

The outfits of Ra.One and G-One designed by Robert Kurtzman and the bright production design are worth a mention.

Vishal-Shekhar's music and the background score along with the awesome stunts and thrilling chases are electrifying. The film would not have been what it is if it was not for Resul Pookutty's sound design, Sanjay Sharma's editing and for the visual and special effects team.

With all the minor blemishes, this movie is still worth seeing at least once.

This high energetic film is loaded with antics, animation and action. With many thrilling sequences mounted with grandeur, it gives you the feel of a live video game.

It is probably one of the classiest movies seen in the Hindi film industry and a feather in Anubhav's hat.










Damadamm Movie Review
By Pendown Society

Starring Himesh Reshammiya, Purbi Joshi, Sonal Sehgal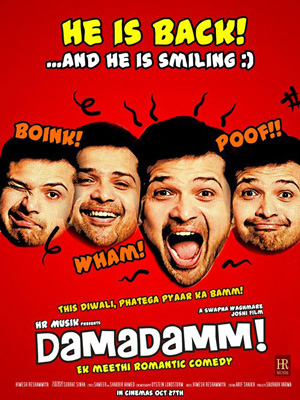 Directed by Swapna Waghmare
So here he is. Himesh Reshammiya is back in front of the camera. This time he moves away from the wannabe-rockstar's image to play a working-class nerd. Himesh's Sameer is a bit of an idiot. So he celebrates the departure of his over-possessive bossy girlfriend Shikha (Purbi Joshi) by dancing on the steeets, making weird faces at passing chicks(who should be shown reciprocating with a stern scowl if not a slap but are instead shown giggling), messing up his tidy apartment and binging on booze with his unsavoury boss who keeps giving our Sameer wrong advice on how to handle women, particularly bossy over-possessive girlfriends.
Damaddam has its nice sweet wholesome moments. It's one of those innocuous romcoms that neither leave you impressed nor cold.The heartwarming moments come on when you are most expecting them and linger on screen long enough to make you forgot how annoyingly misguided a character the hero really is.
There is a ring of truth to Sameer's selfdestructive rejection of a 5-year old seemingly stifling relationship for a posh fling in the tempting lap of luxury with his boss' classy sister Sanjana(Sonal Sehgal).
Shah Rukh Khan had done the same in Aziz Mirza's Raju Ban Gaya Gentleman, given up the comfort of true love for a fling with a rich heiress. To her credit Sonal Sehgal doesn't play the Other Woman as a @#!*% . She echoes Sushmita Sen's tranquil seductiveness from Goldie Behl's Bas Itna Sa Khwab Hai. And that's high praise.
Remarkably Surbat Sinha's screenplay has a believable trio of protagonists, flawed, fumbling, all too human. But the peripheral characters are a letdown. They aren't only sketchy but also clumsily etched into the plot. Also the music, Himesh Reshammiya's mainstay, is here uninspiring and often obtrusive. The track 'Ishq' unplugged comes at an embarrassing juncture when the love triangle is in need of a solution, not a song.
What wins you over is the director Swapna Waghmare's earnestness. She has her heart in the right place. So does the film. Some of the time. For the rest you've to grin and bear the excessive zeal of a supporting cast and a music score that don't know where to draw the line.
Himesh Reashmmiya's performance is that of a goofy Everyman, a bit of a messed-up soul who finally admits he needs a bullying girlfriend to get him through the complexities of life. Himesh works his performance around the character's weaknesses and his own limitations as an actor.
It is the underused Purbi Joshi as Himesh's overbearing girlfriend who steals the show. She imparts a sense of lived-in authenticity to her role, almost at times going beyond the script in search of her character's lost soul. Why don't we get to see more of this pretty talented girl in our films?
Mujhse Fraaandship Karoge Movie
Release date: Fri,14 Oct,2011
Review by: Pendown Society team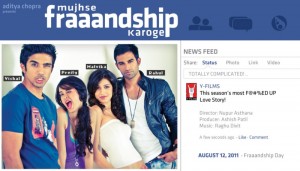 Yash Raj Films are synonymous with love stories, and with their second release from newly launched youth division Y-Films, the production house stick to what they know best: a story about love.
A romantic comedy set against the backdrop of social networking, Mujhse Fraaandship Karoge tells the tale of two losers, Vishal (Saqib Saleem) and Preity (Saba Azad) who fake their online identities in an attempt to get the attention of drop dead gorgeous Malvika (Tara D'Souza) and rockstar Rahul (Nishant Dahiya). What they do not realize, is that the person they hate most in the real world, just happens to be the same person they have fallen in love with online.
So, the premise for the season's most screwed up love story, is: Rahul loves Malvika. And Malvika loves Rahul. But Rahul is not Rahul. Rahul is Vishal. And Vishal loves Malvika too. But Malvika is not Malvika either. Malvika is Preity. And Preity loves Rahul. But Preity hates Vishal. And Vishal hates Preity. Got it? Good.
From the opening scene with a naked guitarist gone viral, it is clear that director Nupur Asthana – previously known for cult TV shows like Hip Hip Hurray and Mahi Way – is firmly targeting the 18-30 demographic. MTV style jump cuts, speeded up segments and innovative camera angles, do not let us forget that this is a film for the youth.
We have a vague plot centered on a college project to celebrate the founder's day of the college. Add to that a cast of shiny, happy students, in a campus where seemingly everything takes place except the small matter of study. Throw in shirtless boys and debut heroines not yet at the 'no-bikini-clause-in-my-contract' stage of their career, and wash it down with copious amounts of tequila and a thumping background score. And there you have it, all the ingredients necessary for a sweet, zesty film.
Asthana scores bonus points for tapping into the language of young, urban India. So people are 'despo' and things are 'obvo'. A 'Jawaani Booty Booty' (don't ask, just watch) MMS scandal and a 'BRB' Facebook status announcing the intermission, will appeal to those always on Facebook – day and night.
As anyone in Bollywood will tell you, launching not one – but four newcomers – is a big risk. Here we have no established stars to support the debut actors, as YRF had tried previously with Shah Rukh Khan and Amitabh Bachchan in Mohabbatein. Nor have we taken the star offspring route Karan Johar is currently travelling down in his forthcoming Student of the Year.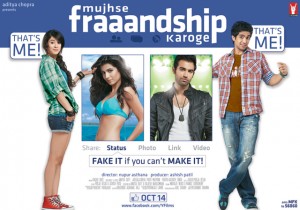 When you are banking on newcomers, one of the key attractions that get you into the cinema in the first place, is the kick- @#!*% promo backed by even more kick- @#!*% songs.
With indie musician Raghu Dixit onboard as composer, Mujhse Fraaandship Karoge has created a soundtrack to rival the popularity of 'Pappu Can't Dance' (Jaane Tu… Ya Jaane Na), and the I Hate Luv Storys title track. 'Dheaon Dheaon', a tribute to the South Indian street music form of Dappan Koothu, has been given a fusion feel with hip-hop and rap influences. Sung by Vishal Dadlani and Aditi Singh, the song is already a hit across music channel platforms. 'Uh-Oh Uh Oh!' is charming and likeable, picturised with a funky choreographed campus dance. 'Chhoo Le' brings Suraj Jagan belted out vocals into a modern twist on the classic stadium rock track.
As is de rigueur for every Yash Raj release post Bunty aur Babli, we are also treated to a bonus track, in the form of a karaoke version of 'Kajra Re' sung in the back of a speeding rickshaw.
Performance wise, Saqib Salim as loser Vishal gets my vote. Nishant Dahiya delivers a confident debut as the equally confident Rahul. Katrina Kaif fans will see something of the star in Tara D'Souza (an identikit accent for starters), while Saba Azad brings the cuteness of Genelia to the table. Pay close attention to how Preity goes through a post-interval metamorphosis. Graduating from checked shirts and hideously oversized jeans (1974 called and wants its denim back), to a sleek and sophisticated conventional Bollywood heroine look.
Without giving the movie away, the climax – all about love, pyaar, ishq, mohabbatein – ties up the story so that everything is as it should be, and everyone is with who they should be. The final reels have fun with a photo story montage, and seem to do the trick of preventing the audience of rushing en masse to the exit sign before the movie is properly over.
In the pre-Diwali rush to release everything and anything before the arrival of a certain Shah Rukh Khan sci-fi project, Mujhse Fraaandship Karoge jostles for a place in the crowded box office with four other releases. While its target audience will get it, and in urban centres the movie should do well, non-multiplex audiences, however, might literally not connect with this love story.
On the whole, BollySpice is quite happy to make fraaandship with the film (though perhaps on limited profile). It is not just another love story. 'It's complicated' and we 'Like'.
Our Rating:
Review
MY FRIEND PINTO movie Review
Release Date : Fri, Oct 14, 2011
Review By endown Society


















The country bumpkin irritates, exasperates and is difficult to deal with but he is blessed with a heart of gold. The miracle man will interact with you for a few minutes and your life will change forever. All the petty strife and rivalries which have so far populated your existence will suddenly cease to exist. The protagonist as a naïve charmer has become an often repeated theme largely due to the success of theMunnabhai [ ] series.

But a simple quirky idea generally isn't enough to generate a masterpiece. There have been plenty of other films which talked about life-altering events occurring during the span of a single day or night. Kuch Love Jaisa and Utt Patang are just two of the duds which come to mind.

My Friend Pinto is one such caper destined to sink at the box office this Friday.

Slapstick humour is like a many-times-patched, retreaded tyre often rolled out during the second half of the film hoping to accelerate the pace. But slapstick needs to be combined with an edgy script, crisp repartee and laugh-a-minute gags to keep the audience engaged and entertained.
My Friend Pinto which was probably planned as a social satire on urban life style and the inherent callousness of ruthless money minded city slickers turns into a meaningless one-night stand. Pun intended.

Now returning to Prateik Michael Pinto, who has just landed in Mumbai []. He's here to meet and spend a week with his childhood friend Sam (Arjun Mathur [ ]). Sam is a yuppie who puts up with an overbearing boss at the office and a domineering wife at home. In this chaos lands up his childhood buddy Pinto who hopes to spend a week with him.

Pinto behaves more like he's travelled two hundred years through a time machine to reach Mumbai instead of the overnight journey he's undertaken to reach Mumbai Central station. There is murder and mayhem all around him but Pinto remains oblivious of this fact. And the mindless so called humour begins.

A crowded station, two gun-toting goons, a conman on the run with a huge bag stuffed with moolah could have been the most appropriate fertile ground for the hilarity to begin. But first-time director Raagav Dar prefers to focus on Prateik the actor and lets the supporting cast slip into the background. And somebody tripping on a suitcase or accidentally wrenching off a handle are jokes associated more with the Rohit Shetty school of humour.

Trite gags are interwoven in a script lacking in focus or suspense. The characters keep up popping up at random intervals and then disappear from screen. Makarand Deshpande plays a retired Mallu Don who wishes to keep his mistress happy. Makarand tries hard to make the audience laugh, but in today's times is the 'mallu' accent enough to have the audience rolling in their seats? Not really, despite a valiant effort Makarand doesn't even succeed in evoking a chuckle.

There's Divya Dutta as Reshma, a failed actress who tries hard to seduce a younger man. Considering the oomph factor which Divya is capable of oozing on screen, it is one more opportunity lost as the all-pervading air is one of buffoonery.

Kalki Koechlin's Hindi speaking abilities improve with every film. But she is a bit of a miscast as she looks older than Prateik. A small role carried off effortlessly.

My Friend Pinto is a great opportunity for Prateik to showcase his skills both as an actor and a dancer. The young awkward boy from Jaane Tu ] Ya Jaane Na has metamorphosed into a fine and confident actor. An endearing smile which can win many over many pretty young things. Yet he doesn't look like a shy young lad who has never visited a big city. A miscast for this role.

Paying homage to the all-time cult film Jaane Bhi Do Yaaron there is also a dead body being lugged around and which needs to be disposed off at the earliest. Doesn't form an integral part of the story, it appears as an add-on to a shoddy script.

As the grand finale Ragaav Dar summarily commentates on the lessons embedded in the script. Doesn't say much for his story-telling abilities.

See this only if you are a Prateik Babbar fan. Else avoid.

Our Rating
:
Review
Azaan movie
Release Date : Fri, Oct 14, 2011
Review By

endown Society Team
JMJ Entertainment Pvt. Ltd. and Alchemia Films' Azaan is the story of a conspiracy to destroy India by biological warfare, and the fight of one man to save his country.

The story is quite new but it is confusing for the viewers to follow. The emotional connection with the audience is missing. The film has an international look and the action and stunts, are the film's mainstay. The action scenes and foreign locations have been excellently captured. The music is good. The performances are average.

On the whole, Azaan may be a well-mounted and well-shot film but it won't make any mark at the box-office. The film will not connect with the Indian audiences, thanks to its confusing screenplay. Its heavy cost will prove to be yet another stumbling block, given its dull opening.
Our Rating:
Review
Jo Dooba So Paar - It's Love In Bihar! Movie Review
Release Date : Fri,14 Oct 2011
Review By

endown Society Team
Anand Entertainment and Andaaz Productions' 'Jo Dooba So Paar' is an unusual love story of a small-town boy living in Bihar, and an American girl. The story may not be novel but the atmosphere of the small town in Bihar is well recreated. None of the twists is exciting enough to involve the viewer completely.

The direction and other technical aspects are average. The performances are good. On the whole, Jo Dooba So Paar will go down in box-office history as a non-starter because it has taken a very dull start and there's nothing in it to warrant a pickup.



Our Rating

:
Review
Release Date : Fri, Oct 14, 2011
Review By

endown Society Team
Shreya Entertainment and Kukunoor Movies' Mod is an emotional love story with a difference. While the twists and turns in the tale shock the viewer initially, the latter twists seem a bit far-fetched. The drama is depressing and even the uplifting ending does not have the desired effect.

Ayesha Takia plays her role with a rare understanding. Rannvijay Singh goes through his difficult role with alarming ease. Nagesh Kukunoor has handled the sensitive drama with a lot of understanding. The other technical aspects are fair.

On the whole, Mod may win critical acclaim but it will remain a dull fare at the box-office.

Our Rating:
Review
Fox Star Studios India Pvt. Ltd. and Sunshine Pictures Pvt. Ltd.'s Force is an action-romantic film. Remake of the Tamil blockbuster, Kaakha Kaakha, the film has a routine story line about how love changes the life of a police officer living on the edge. John Abraham does very well as the angry young man out to cleanse the country of the drug menace. He is suitably awkward in the romantic scenes. Genelia D'souza is cute and endearing but she gets limited scope. Her absence is more pronounced after interval. Vidyut Jammwal is excellent in stunts. Nishikant Kamat's direction is good but it would've been better had he balanced romance and action in a more mature fashion. He has unnecessarily made the film very serious and made it seem like a one-dimensional account of the drug menace. On the whole, Force will be liked by the youngsters, mostly guys, and will do better in single-screen cinemas than in multiplexes. In the final tally, it will prove to be an average fare.

Our Rating:
Review
SAHEB BIWI AUR GANGSTER Movie Review
Release Date : Fri, Sep 30, 2011
Review By

endown Society
Brandsmith Motion Pictures, Bohra Bros. Pvt. Ltd. and Tigmanshu Dhulia Films' Saheb Biwi Aur Gangster (A) is a story of power, lust and betrayal. Sanjay Chouhan and Tigmanshu Dhulia's story has a lot of twists and turns, which keep the audience's interest alive. The many layers in the story keep unfolding in an interesting manner, keeping the viewer engrossed. What adds to the drama (also penned by Chouhan and Dhulia) are the wonderful dialogues, penned by the writing duo. Jimmy Shergill lives the role of Saheb. He does an extraordinary job, getting into the skin of the character. In one word, he makes the character so believable. Mahie Gill is also superb, using her eyes and body language very intelligently to add to her acting prowess. Randeep Hooda is very good as the scheming paramour of Madhavi, going through his role with ease. Tigmanshu Dhulia's direction is praiseworthy. It must be said to his credit that he has maintained a fast pace to keep the audience engrossed in the drama in spite of some shortcomings in the script. Music is good and goes with the mood of the film. On the whole, very moderately budgeted Saheb Biwi Aur Gangster is a fair entertainer but with a few loose ends in its screenplay. It will do fair business at the box-office.
Our Rating:
Mausam Movie Review
Release Date : Fri, Sep 23, 2011
Review By

endown Society Team
Mausam is a love story of a Hindu boy, Harinder Singh alias Harry (Shahid Kapoor), and a Kashmiri Muslim girl, Aayat (Sonam Kapoor). The story is spread over a decade and since the lovers keep meeting and getting separated, it follows the same path every time, making the drama repetitive and even boring. The film moves at a leisurely and raises questions in the audience's minds about a number of issues.

The cramming of too many events in the film makes the drama boring, especially in the second half. Pankaj Kapur's dialogues are good.

Shahid Kapoor acts with effortless ease, beautifully underplaying his character of an IAF pilot in search of his love. Sonam Kapoor also looks pretty and delivers a dignified performance. Her acting is suitably restrained.

Pankaj Kapoor has beautifully projected the atmosphere of life in the Punjab town. The music and song picturisations are excellent.

On the whole, Mausam does not have the heart-warming quality of a love story to please the hearts of the audience. It will not be able to do substantial business at the box-office although reaching the average mark may not be difficult.
Our Rating

:
Review
That Girl In Yellow Boots Movie Review
Release Date : Wed, Aug 31, 2011
Review By

endown Society Team


Anurag Kashyap Films Pvt. Ltd. and NFDC's That Girl In Yellow Boots (A) is a shocking tale of a British girl who works at a massage parlour in Bombay, giving customers hand jobs. At the same time, she is looking for her long-lost father, who had abandoned her many years ago.

That Girl In Yellow Boots has the shock value, the gritty camerawork and hounding background score that Anurah Kashyap films have. But the story (by Kalki Koechlin and Anurag Kashyap) lacks the punch in spite of the supremely shocking ending. The screenplay (also by Kalki and Anurag) takes too much time to get to the point and the audience is left to piece the story together.

Kalki Koechlin delivers a nuanced performance as the tumultuous Ruth. She uses her eyes and body language to the hilt to express varying emotions. Anurag Kashyap's direction is appropriate for the script. The background score is very good. Rajeev Ravi's cinematography is edgy. Editing, by Shweta Venkat Mathew, is crisp. Production design, by Wasiq Khan, is realistic.

On the whole, That Girl In Yellow Boots will win critical acclaim and the love of a section of the audience but will be shunned by the majority of the paying public.

Our Rating: